All our products are purely traditional and developed in-house with great love for the bees. Because only natural products are used, it is possible that one batch differs minimally from the other in taste or color. Bottling and labeling are also done by hand. The batches are always small and therefore very exclusive.

IN TOTAL, SERIOUS BEE DISTILLERS HAS WON 12 INTERNATIONAL AWARDS IN THE PAST THREE YEARS. THAT IS AN ACHIEVEMENT TO BE PROUD OF!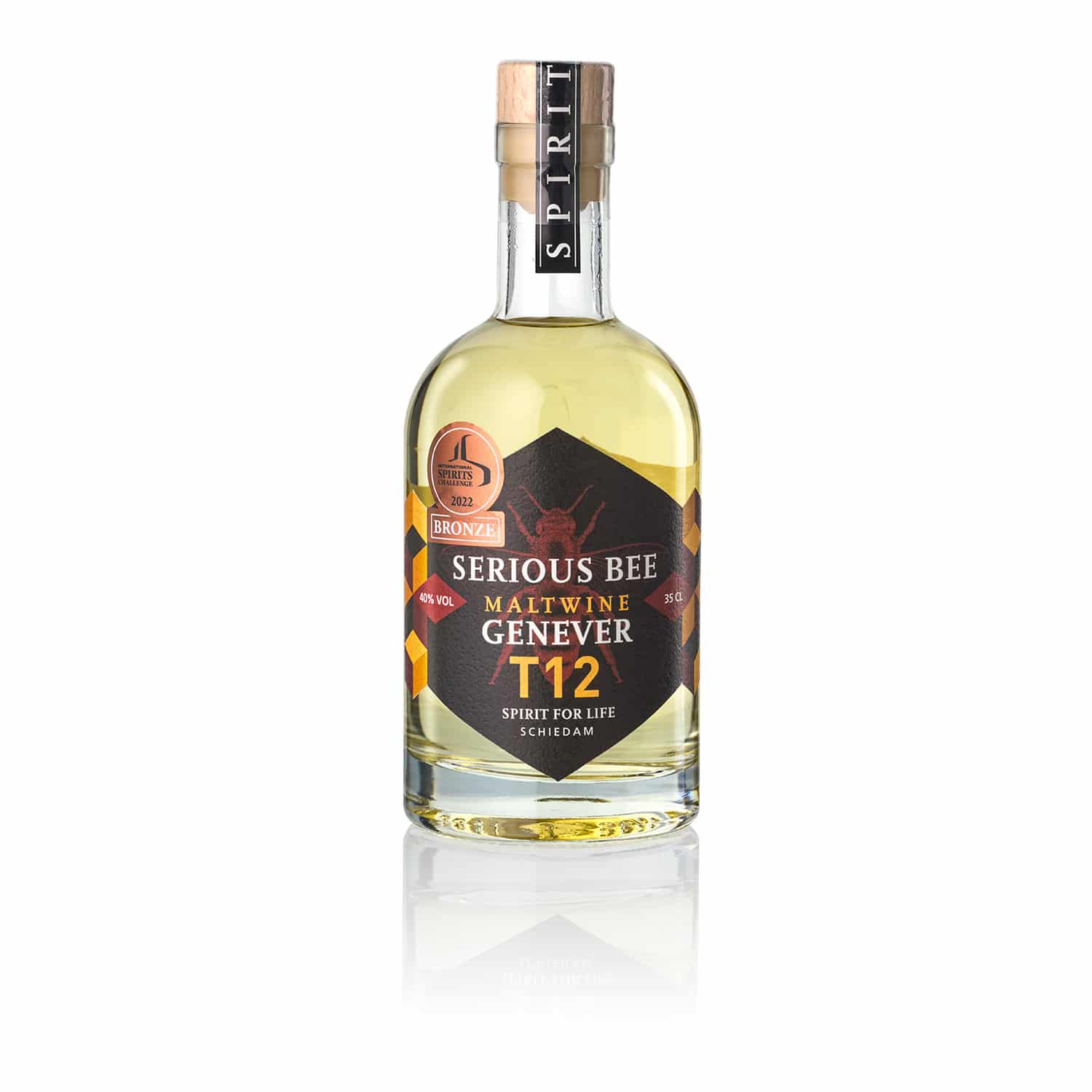 SERIOUS BEE MALTWINE GENEVER T12
Available in very small exclusive batch of numbered 0.35 l bottles
More info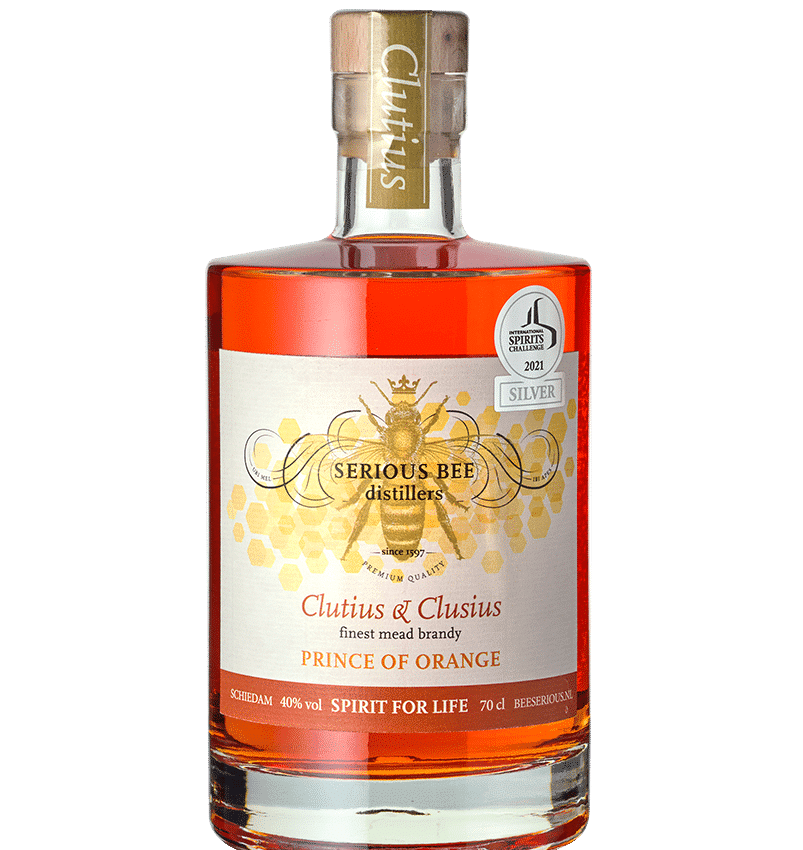 From bees to booze
The distillates of Serious Bee Distillers are made in-house from bee to drink. We start by making mead, so that alcohol is obtained through fermentation. This process can be compared to the fermentation of wine. The only difference is that honey is used instead of grapes. Centuries ago, when honey was still our main sweetener and wine was very expensive and exotic, many people drank mead.
Clutius & Clusius 'Pearl Noble Xeres'
The pure distillate, completely honey based. Partly aged in new French oak and partly in sherry wood. Beautifully refined and intensive aromas, enhanced with carefully chosen woods, in which the honey base remains surprisingly beautiful. With 50 percent alcohol. If necessary, add a drop of water to taste to unlock the aromas. The proceeds from each bottle of Pearl Noble Xeres benefit the bees.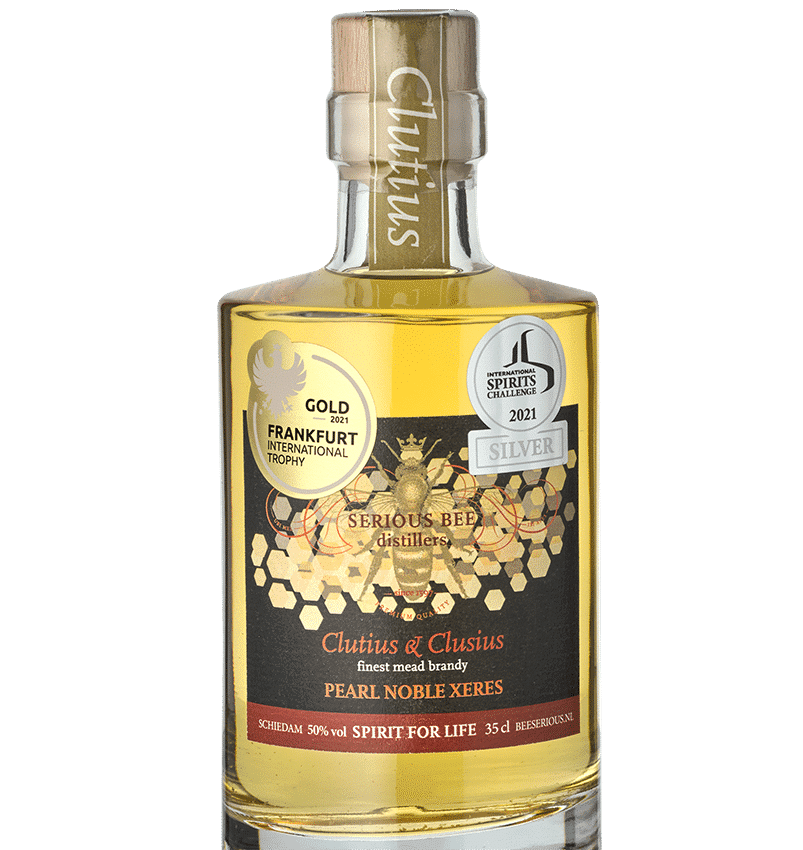 The making of mead is similar to the fermentation of wine in terms of process. Instead of grapes, honey is used as its base. Centuries ago, when honey was still our main sweetener and wine was very expensive and exotic, mead was widely drunk by all sections of society.
MEAD: MEAD, 4 LETTERS
People who have heard of mead are often puzzle solvers. Or visitors to fantasy events and re-enactment events. As soon as something medieval needs to be imitated, mead is in the picture. But what exactly is mead?
Whereas wine is made from grapes that have undergone a fermentation process, in the case of mead honey is used as the basis for fermentation. This process takes months! Beekeepers who make mead often add extra ingredients, such as herbs and spices. Serious Bee Distillers uses home-made mead as the basis for its distillates. But they also make different kinds of mead to enjoy on its own. Delicious as a dessert wine, or instead of a glass of port wine, with a piece of cheese, a nut or a fig roll.
MEAD: THE DRINK OF THE GODS
The Greek gods on the Olympus drank mead. It is said that they owed their immortality to the healing and purifying effects of honey. Until the birth of Dionysus, who introduced the wine grape and wine to the Gods. It was the mead that brought knowledge and wisdom to Odin, the supreme god of the Vikings.
MEAD: AT LEAST 8000 YEARS OLD
The most ancient wine concept in the world. No more and no less. This is mead, wine with honey as its base, instead of grapes. Mead was drunk from Ethiopia to Scandinavia. It was drunk both hot and cold.